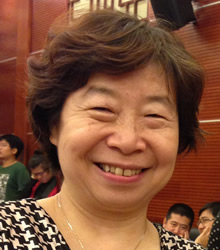 Professor Ruoyu Li, Director of Research Center for Medical Mycology, Beijing.
Professor Rouyi Li, Director, Dept of Dermatology, Peking University First Hospital, Research Center for Medical Mycology, Peking University, Beijing and President-elect, China Dermatologist Association; President, Subsociety for Mycology, Chinese Society of Microbiology  email: Link
View the Fungal burden of disease in China: Now published 2020. 
How you have helped GAFFI so far: 

Help to collect information of diagnosis of invasive fungal infection in China; Organizingtraining workshops and scientific meetings on medical mycology in China; Study the epidemiology of invasive fungal infectionin China; Monitor antifungal resistance in China.
Personal comment on the major needs in China which GAFFI should be addressing

:
The incidence of fungal infections, especially the invasive fungal infection is still not clearly understood in China;
There is a great need for rapid and specific diagnosis of fungal infections, especially on invasive infections.
The special training of laboratory people to master the laboratory methods to identify different fungal isolates is necessary.
We need to set-up of a national network for monitoring antifungal resistance.
 Links to key fungal/global health institutions in China: