(Article in French) Published today in the International Journal of Dermatology, the Diagnostic capacity for cutaneous fungal diseases in the African continent finds key gaps in (diagnosing/treating) skin fungal disease.
Skin fungal infections affect ~750 million people globally [1]. There are estimated to be over 135 million school-age children in Africa with fungal hair infections (pictured) [2]. About 20% of HIV-infected patients have a skin fungal infection, and these infections are a clinical clue to the diagnosis of HIV.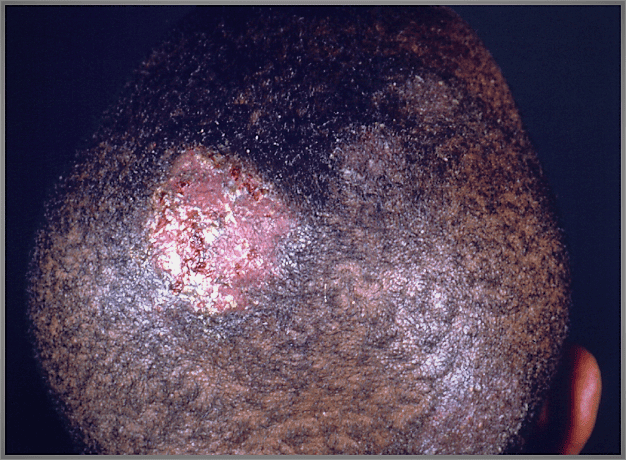 Some skin fungal infections can be readily diagnosed clinically, but laboratory confirmation is required for most, partly to ensure the clinical diagnosis is accurate and partly to ensure the correct treatment is given. The continuing outbreak of antifungal-resistant ringworm in India, emphasises the need to take samples for identification – the key laboratory tests are direct microscopy and fungal culture.
Direct microscopy is often or occasionally performed in 30 of 48 (63%) African countries, but not done in 10 (21%) in the public sector. 
Fungal cultures are often or occasionally performed in 29 of 48 (61%) of African countries, but not done in 9 (20%) public healthcare facilities.
Neglected Tropical Diseases (NTDs) listed by the World Health Organization include mycetoma, chromoblastomycosis and sporotrichosis, which are caused by many different fungi. All three are devastating infections mainly impacting (location/countries/areas), casting patients into poverty and carrying huge social stigma. Critical for diagnosis: skin biopsy, microscopy, histopathology and fungal culture.
Of 47 African countries with data, 7 (15%) and 21 (45%) do not offer skin biopsy in the public or private sector, respectively, but 32 (67%) countries do it regularly or occasionally, mostly in university hospitals.
Histopathological examination of tissue is frequently used in 31 of 48 (65%) African countries, but not in 9 (20%) countries in the public sector.
Dr Aida of Cheikh Anta Diop University of Dakar and Aristide Le Dantec Hospital, Dakar, Senegal, GAFFI Country Ambassador and lead author of the report declared:
"In many African countries laboratory services to diagnose fungal infection are poorly developed, with lack of awareness, laboratory skills and resources the principal issues. We hope this paper and report will translate into comprehensive coverage of direct microscopy and fungal culture in Africa over the next decade."
Dr Lala Ramarozatovo, Professor of Dermatology at the Hospital Joseph Raseta Befelatanana in Antananarivo, Madagascar and GAFFI Country Ambassador stated:
"Although dermatophytosis is among the most diagnosed skin fungal disease in Africa, our biggest concerns are the neglected and serious tropical fungal diseases such as chromoblastomycosis, sporotrichosis and mycetoma. Many patients remain undiagnosed for years and the laboratory support is too often lacking. We were dismayed to learn that seven African countries cannot do the first basic step in diagnosis – a skin biopsy. Dermatologists play an important role in clinical diagnosis but there is a severe shortage of dermatologists in most of Africa."
The survey described the Diagnostic capacity for cutaneous fungal diseases in the African continent was conducted in 2021-2022 by Global Action For Fungal Infections (GAFFI) in collaboration with the Africa Centres for Disease Control and Prevention (Africa CDC). The survey findings were presented at the 2nd Conference on Public Health in Africa in Kigali in December 2022.
The research paper includes co-authors from Botswana, Cameroon, the Central African Republic, the Democratic Republic of Congo, Gambia, Guinea Bissau, Mali, Mauritania, Mozambique, Namibia, Somalia, Sudan, Tchad and Togo.
---
[1] Urban K, Chu S, Scheufele C, Giesey RL, Mehrmal S, Uppal P, Delost GR. The global, regional, and national burden of fungal skin diseases in 195 countries and territories: A cross-sectional analysis from the Global Burden of Disease Study 2017. JAAD Int. 2020 Nov 30;2:22-27. doi: 10.1016/j.jdin.2020.10.003.
[2] Bongomin F, Olum R, Nsenga L, Namusobya M, Russell L, de Sousa E, Osaigbovo II, Kwizera R, Baluku JB. Estimation of the burden of tinea capitis among children in Africa. Mycoses. 2021 Apr;64(4):349-363.
---