In a happy coincidence March 15th marks 2 major steps forward in treating fungal meningitis in AIDS. The World Health Organization has accepted the pre-qualification of flucytosine application from Mylan. This means greatly accelerated approval of this life-saving drug in at least 32 countries, in a very short time frame.
Dr Sile Molloy (St, George's Hospital, London) and colleagues today report the outcome of the ACTA trial (Antifungal Combinations for Treatment
of Cryptococcal Meningitis in Africa)– the largest ever trial for cryptococcal meningitis. There were 3 key findings from this study:
Flucytosine is a better partner drug than fluconazole with amphotericin B with a 40% relative risk reduction of death.
One week of amphotericin B is at least as good as 2 weeks, and has less toxicity, notably severe anaemia
The all oral regimen of flucytosine and fluconazole was as effective in the short term as any amphotericin B, which allows alternative options for hospitals without capability for intravenous therapy and monitoring and out-patient or ambulatory care.
Patients (n=721) were all recruited from sub-Saharan Africa; Zambia, Malawi, Cameroon, Tanzania. Median age was 36 years, 55% were antiretroviral experienced and the median CD4 cell count was 26 (normal >500).  35% had markedly elevated CSF opening pressure. Overall 20% had died by 2 weeks and 37% by 10 weeks.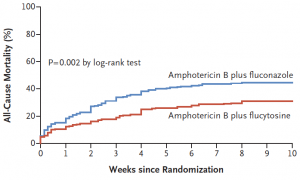 The evidence supporting the necessity of having flucytosine routinely available for cryptococcal meningitis is now incontrovertible and efforts to make it available on the ground must be accelerated.
Tom Harrison, Professor of Infectious Diseases at St George's Hospital, said: "The research programme has taken 15 years and has at times been a long hard journey but we are delighted to be able to show a way forward to dramatically cut the number of deaths from meningitis.
"We are calling for the generic manufacture and widespread availability of the drug flucytosine, and plan large-scale programmes of implementation with partner countries and international agencies that could result in the mortality from this dreaded infection being halved.
"Our trial has shown beyond doubt that flucytosine is an essential medicine for the treatment of meningitis related to HIV. However, it is currently completely unavailable in Africa where three quarters of the global cases occur."
WHO prequalification countries: Armenia, Botswana, Burkina Faso, Burundi, Caribbean Community (CARICOM), Cameroon, Côte d'Ivoire, Democratic Republic of the Congo, Eritrea, Ethiopia, Georgia, Ghana, Kenya, Kyrgyzstan, Lao People's Democratic Republic, Madagascar, Malawi, Mali, Mozambique, Namibia, Nigeria, Philippines, Senegal, Sierra Leone, South Africa, Tanzania, Thailand, Uganda, Ukraine, Zambia, Zanzibar and Zimbabwe