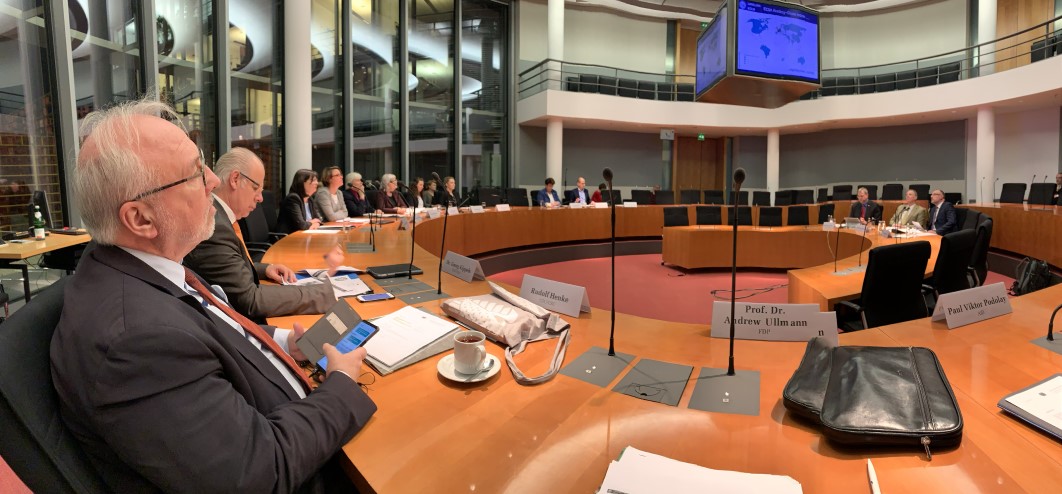 At the invitation of the Chair of Global Health sub-committee Heike Baehrens, GAFFI's plea for more investment into saving lives and reducing symptoms caused by fungal diseases.  As part of the One Health concept, GAFFI's Chief Executive Professor David Denning and Senior Medical Adviser Professor Juan Luis Rodriguez Tudela spoke at the hour-long meeting in the Bundestag.
Key points made were:
More deaths caused by fungal diseases than TB or malaria, yet very little investment,
A quiet revolution in fungal diagnostic tests since 2010 means that fast, inexpensive and low complexity tests suitable for low and middle-income countries include cryptococcal antigen, histoplasma antigen, Aspergillus antigen, Aspergillus antibody and Pneumocystis PCR (room temperature stable).
Flucytosine for fungal meningitis in AIDS is essentially unavailable in Africa; The cost to provide this 50 years old generic antifungal to all who need it would be a modest €22 million to save ~27,000 lives.
Antifungal and fungicide resistance is increasing, with particular emphasis on azole resistance in Aspergillus, multi-drug resistance in Candida and terbinafine resistance in dermatophyte skin fungi.
A new approach to research involving emphasis on translational studies in other countries, implementation research and health systems implementation would greatly facilitate immediate improvements in health.
Professor Dr Andrew Ullman, Member of the German Bundestag and an expert in fungal diseases said: "The Sub-Committee MPs were very surprised by the scale of the problem of fungal diseases. Awareness and a shift in research priorities towards addressing current healthcare gaps and how best to plug them would save many lives."
Professor Denning also met separately with Federal Ministry of Health and Federal Ministry of Education and Research officials responsible for Global Health to exchange ideas about how Germany could best contribute to improving health in Africa and Eastern Europe related to fungal diseases.