A 21-year-old medical student has made a major discovery, which will help doctors better able to diagnose and treat patients with Cystic Fibrosis (CF).
Jo Armstead spent hundreds of hours accessing data from 30 countries to discover that there are over 75,000 people with the genetic disorder, of whom half are over 18 years – with 50 per cent infected by the fungus, Aspergillus.
What started out at a summer project for Jo, who is a third year student at Newcastle University Medical School, and comes from Manchester, has led to publication in a prestigious journal and recognition by the country's top expert.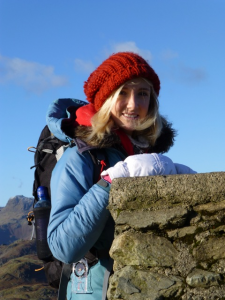 Professor David Denning, Director of the NHS National Aspergillosis Centre and Professor of Infectious Diseases in Global Health at the University of Manchester explains: "The life expectancy of people with CF has been increasing, but aspergillosis has a major negative impact on many. By painstakingly crunching the numbers, Jo has helped us better understand the scale of the challenge which will lead to better diagnostics and treatment strategies." Prof Denning and Jo were interviewed on  BBC-1  Breakfast last Sunday June 29th. Watch the interview.
When she qualifies, Jo is considering a career in acute medicine & expedition medicine to combine her passions for the outdoors and travelling but, for the moment, she is studying hard for exams next month. She spent last summer holidays working with Professor Denning and the team at the University Hospital of South Manchester and says:  "It has been really great to be involved in the first project of its kind ever done, with dramatic results and real opportunities for better health in young CF sufferers."
Registries for CF have been ongoing for years, but never before has the problem infection aspergillosis been estimated. The UK has the second highest number of adult CF sufferers (5290), second only to the USA (13,657).
Aspergillosis causes the airway infection, bronchitis, and allergy, known as ABPA, which starts in childhood and reaches a peak in late teenage years. Treatment involves antifungal therapy or oral steroids, but is not yet demonstrated to be very effective, with antifungal resistance emerging.
Article  Press reports:  Daily telegraph
For more information contact Susan Osborne, Director of Communications, The Goodwork Organisation on 07836 229208.
Notes for Editors
The report can be found online here:
ABPA (non-invasive)
This is a condition where a patient develops an allergy to the spores of the Aspergillus moulds. Predominantly it affects asthma patients, those with cystic fibrosis (CF) and patients with bronchiectasis. 1% to 5% of adult asthmatics might develop this at some time during their lives, whereas 5% to 10% of CF patients may be affected. 
Approximately 30% of all asthmatics suffer with severe (20%) or very severe (10%) asthma, and around 40% of both these groups are also sensitised to numerous different fungi – these patients have been grouped into a new category called Severe Asthma with Fungal Sensitisation or SAFS.
Presentation:
ABPA often presents with shortness of breath, coughing and wheezing. There may be pulmonary infiltrates, which do not respond to conventional antibiotics in asthma/CF sufferers. The symptoms are similar to those of asthma: intermittent episodes of feeling unwell, coughing and wheezing. Some patients cough up brown-coloured plugs of mucus. The diagnosis can be made by chest X-ray along with sputum, skin and blood tests. An elevated total serum IgE, together with evidence of Aspergillus sensitisation as seen by either the presence of Aspergillus antibodies, or identification from respiratory fluid, is a positive indication. Lung infiltrates are often seen on X-ray or CT scan. 
In the long term ABPA can lead to permanent lung damage (fibrosis) if left untreated.
Treatment:
Oral, long-term, high-dose steroids are the usual method of management and the condition responds well to glucocorticoids. Inhaled steroids are ineffective. Itraconazole (an antifungal drug) has been shown to be of benefit when used in conjunction with steroids and longer term it may reduce the dosage of steroids required for ABPA treatment.
The National Aspergillosis Centre (www.nationalaspergillosiscentre.org.uk) is the UK's referral clinic for patients with chronic pulmonary aspergillosis and related conditions. It was established 5 years ago and is housed at the University Hospital of South Manchester and funded through the National Health Service Specialised Services. The Aspergillus Website (www.aspergillus.org.uk) was set up in 1998 by the Fungal Infection Trust. It is the most comprehensive source of information about Aspergillus and the diseases it causes available on the Internet. An estimated 75,000 distinct IP addresses log on monthly and over 200,000 other websites link to the Aspergillus Website. Well over 70% of users in any month are new visitors from over 125 countries. Over 1,000 patients are currently registered with the support discussion group on Yahoo! with another 150 on Facebook with 280 LinkedIn members (Aspergillus and Aspergillosis Group)
Other links: Aspergillus blogspot