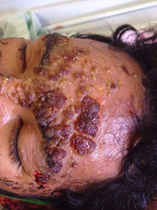 Disseminated histoplasmosis is under-diagnosed and as a result, is the cause of death in up to 20% of people dying of AIDS. Antigen detection in serum or urine is more sensitive and faster than conventional diagnosis, usually based on culture, or histopathology of skin lesions or bone marrow. Today the Pan American Health Organization has issued its first guidelines on both diagnosis and management of "disseminated histoplasmosis among people living with HIV".
The key recommendations are:
1. Diagnosis using antigen detection
2. Treat severe disease (which is now defined) with liposomal amphotericin B 3mg/Kg (or conventional amphotericin B, 07-1mg/kg) for 14 days.
3. Treat mild to moderate disease with itraconazole (loading doses then 200mg twice daily).
4. Continue 12 months of itraconazole as maintenance therapy.
5. Initiate antiretroviral therapy immediately on diagnosis, unless central nervous system histoplasmosis is present (<5%).
6. Co-infection with tuberculosis is frequent (but should not be presumed) and both infections need treating, avoiding rifampin and itraconazole combination.
Professor Juan Luis Rodriguez Tudela of GAFFI, and an external reviewer of the guideline, commented: "This guideline has been needed for years, to improve the diagnosis of histoplasmosis and not miss cases, which is too often the case, and to clarify the roles of liposomal amphotericin B, itraconazole and timing of antiretroviral therapy."
Several GAFFI Ambassadors were involved in writing or reviewing the guidelines including Eduardo Arathoon (Guatemala), Flavio Queiroz Telles (Brazil), Alexandro Bonifaz (Mexico), Ana Alastruey (Spain), Arnaldo Colombo (Brazil) and Nelesh Govender (South Africa).