Itraconazole, voriconazole and natamycin 5% ophthalmic preparation ruled as 'essential antifungals'
 GAFFI (Global Action Fund for Fungal Infections) says today's announcement that three drugs capable of reducing deaths in hundreds of thousands of people worldwide have been given essential medicines status is a Red Letter Day in the fight to reduce blindness and save lives.
GAFFI applied for itraconazole (capsules and oral suspension), voriconazole (capsules and intravenous solution) and natamycin 5% ophthalmic solution to be placed on the World Health Organization (WHO) Essential Medicine List (EML), in collaboration with colleagues from the Instituto de Salud Carlos III, International Foundation for Dermatology, London School of Hygiene of Tropical Medicine and The University of Manchester.
The antifungal medicines itraconazole, voriconazole are essential to reduce deaths and illness, and natamycin to reduce blindness, and they are very inexpensive in most countries.
Professor David Denning from GAFFI and the University of Manchester says: "Recently GAFFI highlighted how many countries don't have even the older antifungals, despite them being available for over 25 years in the West. This endorsement by the WHO of their essentiality is a key step in reducing mortality from fungal diseases. We are delighted that our campaign has WHO recognition.  Our challenge now will be to make sure these drugs get to the people who desperately need them."
The proposed indications for itraconazole capsules are chronic cavitary pulmonary aspergillosis, invasive aspergillosis, histoplasmosis (therapy, primary and secondary prophylaxis), sporotrichosis, paracoccidioidomycosis, infections caused by Talaromyces marneffei (penicilliosis) (therapy, primary and secondary prophylaxis), chromoblastomycosis. These are all conditions in which fluconazole is ineffective. Itraconazole oral solution is preferred in late stage AIDS patients, leukaemia patients and children.
The proposed indications for voriconazole are invasive and chronic pulmonary aspergillosis, with intravenous therapy preferred initially, in invasive disease.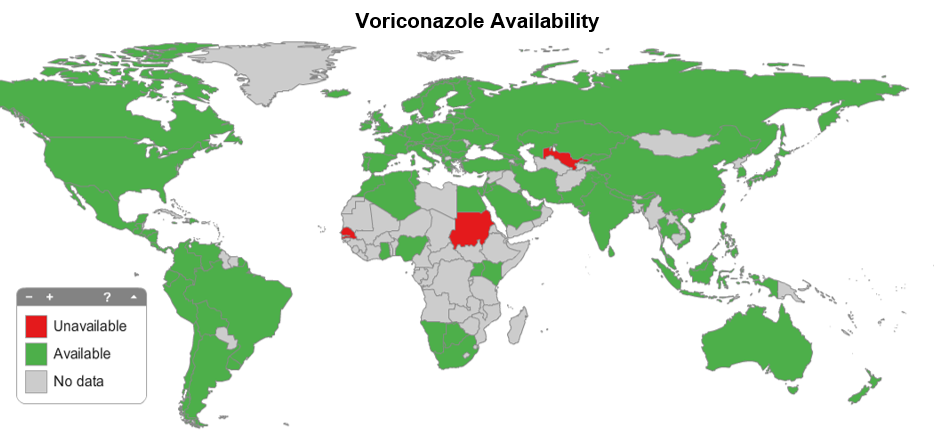 The important indication for topical natamycin 5% in the eye is fungal (mycotic) keratitis and 3 randomised studies have shown it to be more efficacious than other topical medicines, given alone.
Current antifungals on the EML include only griseofulvin, fluconazole, amphotericin B and flucytosine (listed 2013), and some topical antifungals for skin. There is currently no EML listing for any preparation active for fungal keratitis.  These applications are a key component of GAFFI's effort to achieve it '95-96 by 2025' goal with respect to universal antifungal access.