Fungal keratitis is a major cause of corneal blindness, linked to eye trauma, topical corticosteroids, traditional medicine and HIV infection. There are estimated to be 1,100,000 to 1,400,000 eyes affected each year including at least 75,000 in Africa. In tropical areas, fungi are responsible for ~50% of corneal infections. Inadequate treatment leads to blindness, often with perforation of the globe of the eye.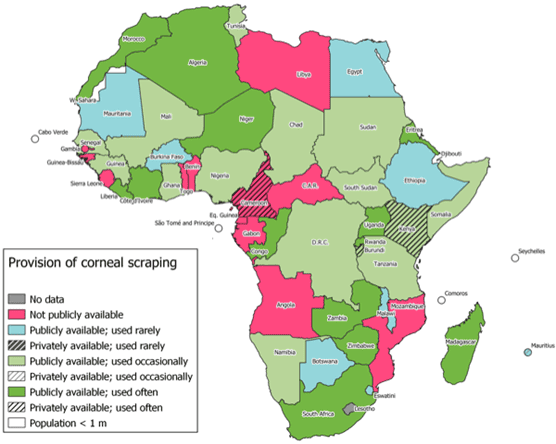 Just published in The Ocular Surface, is a diagnostic capacity survey in 48 countries and 2 autonomous areas of Somalia. Clinical features alone are inadequate for presumptive diagnosis: corneal scraping followed by direct microscopy, culture and/or a molecular method are necessary. Over 300 different species of fungi cause keratitis.
Key findings from the study reveal:
Corneal scraping is performed often in 13 and occasionally in 14 countries in public healthcare facilities, but not done in 15 countries.
Direct microscopy is performed in the public sector in 29 countries, occasionally in 11 and in the private sector in 34 countries.
Fungal culture is regularly done in 22 countries in the public sector and 13 countries in the private sector, but not done in 11 and 23 countries in the public and private sectors.
The research paper includes co-authors from Burundi, Chad, the Democratic Republic of Congo, Gabon, Ghana, Liberia, Nigeria, Somalia and Tanzania.
Healthcare workers on eye health have been the focus of several reports.
Dr Jean Claude Makangara Cigoloof Kinshasa University Hospital, Democratic Republic of Congo and lead author of the report said:
"That corneal scraping is regularly and occasionally performed in 27 of 50 countries shows that many African countries have the necessary skill set/capacity to perform corneal scrapings for diagnosis. Direct microscopy and fungal culture need to be aligned for rapid diagnosis – this should be straightforward to implement in many cities."
Professor Rita Oladele of the College of Medicine, University of Lagos, Nigeria GAFFI Country Ambassador stated:
"There are not enough healthcare workers focussed on eye health in Africa. Many are in teaching hospitals and major cities whereas most patients affected live in rural areas. Laboratory diagnosis is critical and this valuable human resource needs major expansion to enhance microscopy skills and identification of the many species of fungi casing fungal keratitis."
Reports on Eye Healthcare in Africa:
Graham R. Facing the crisis in human resources for eye health in sub-Saharan Africa. Community Eye Health. 2017;30(100):85-87.
Global Mapping of Optometry Workforce 2022  
Situation analysis of Optometry in Africa 2016
The survey was conducted in 2021-2022 by Global Action For Fungal Infections GAFFI in collaboration with the Africa Centres for Disease Control and Prevention Africa CDC. The survey findings were presented at the 2nd Conference on Public Health in Africa in Kigali in December 2022.
---