Researchers say it is possible that increased agricultural fungicide use may be contributing to gradual azole fungal drug resistance in Aspergillus in South East Asia and around the world.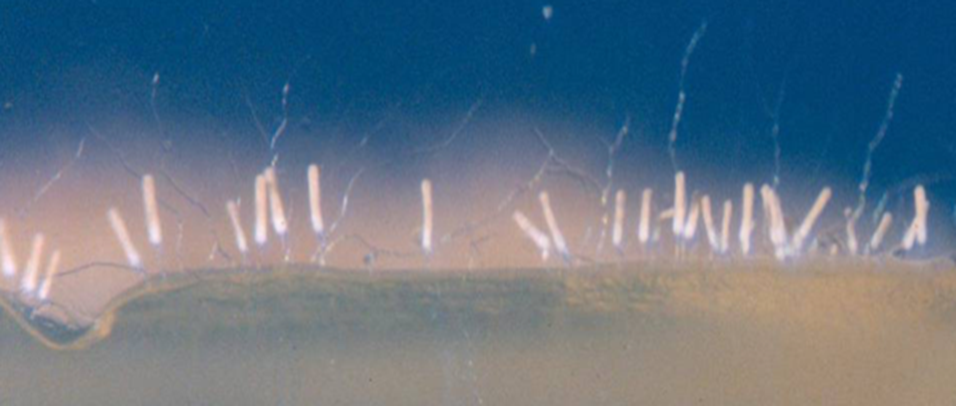 Azole antifungals are the most important group for treating many fungal diseases. Resistance to azole in Aspergillus is much more prevalent in South East Asia than anywhere else, with rates of 92% in the most important mould causing infection in people.
Infection caused by azole-resistant Aspergillus leaves physicians with sub-optimal therapies if it can be detected at all inpatients. Untreated, the most severe forms of aspergillosis (invasive) have a mortality of >95%. Often culture and resistance testing are too slow to save patients.
Tra-My Duong documents remarkably high rates of azole resistance in strains of Aspergillus fumigatus from southern Vietnam, as part of a One Health antifungal resistance collaboration between the University of Sydney and the Oxford University Clinical Research Unit, Ho Chi Minh City.
Her team cultured 62 environmental strains from the Mekong delta and 92% of A. fumigatus sensu stricto were itraconazole resistant, compared to 32% in closely related species. Most strains were also resistant to posaconazole, voriconazole and/or isavuconazole and most (64%) had a combination of tandem repeat and target site mutations, as in other parts of the world, although surprisingly, 32% did not manifest any target site mutations.
This remarkably high resistance rate in A. fumigatus is mirrored in China in 2020 – 60% in strawberry fields in Nanjing and Hangzhou and 80% in greenhouses growing coriander, summer squash, peas, lettuce and fennel in Kunming. These are new developments and concerns.
There is much circumstantial evidence linking the agricultural use of several triazole fungicides (prochloraz, difenoconazole, propiconazole, hexaconazole and tebuconazole) with the emergence of azole resistance in A. fumigatus.
In China, the increasing frequency of azole resistance was closely linked with increasing azole fungicide residues in soil (20% resistant isolates when more than 1000 ng/g fungicide was detected). Azole fungicide pressure drives azole resistance in A. fumigatus. What is not clear is whether removal of that pressure reduces the azole-resistant population sufficiently to be effective.
Dr Justin Beardsley, senior author on the paper at the Marie Bashir Institute for Infectious Diseases and Biosecurity, The University of Sydney said:
"Our results raise significant 'red flags' for the region. Aspergillus spores are readily transmissible by air and resistance could spread between regions and countries. The high resistance rates in this region have potentially serious implications for existing Aspergillus treatment guidelines, where empiric azole therapy may not be fit for purpose."

Dr Justin Beardsley
Over the last decade, resistance has been documented on every continent except Antarctica compared to pre-2000, when the number of resistant isolates was close to zero. Prevalence data of azole resistance (~5-10%) has been reported from several studies of Aspergillus from soil samples across Europe, Africa, South America, Asia and the USA. Azole resistance is becoming of increasing concern as over the last 20 years, azole usage in agriculture has increased 4-fold.
The potential for life-threatening infection was documented in resistant strains, heralding a major shift in thinking about the underlying reasons for the development of resistance, mechanisms of resistance and routine susceptibility testing of Aspergillus spp. in clinical laboratories.
Professor David Denning of the Global Action Fund for Fungal Infections and the University of Manchester declared:
"The new generation of oral antifungals for Aspergillus is years away from regulatory approval. There is a major need to curtail as much as possible non-critical use of azole fungicides in agriculture to minimize azole resistance. This paper emphasizes that the time to act is now."

Professor David Denning
See link to full paper here
https://sfamjournals.onlinelibrary.wiley.com/doi/10.1111/1462-2920.15660
and an accompanying editorial.
Also see van Rhijn Aspergillus resistance hotspots Environ Microbiol 2021