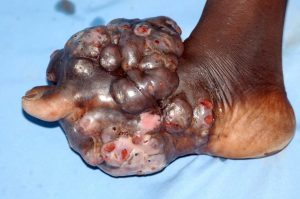 The Director-General of the World Health Organization (Dr Tedros Adhanom Ghebreyesus) has called for more research into mycetoma, a chronic fungal infection causing severe disfigurement of the hands or feet. Primarily affecting poor outdoor workers (labourers and herdsmen), mycetoma is thought to affect up to 50,000 people worldwide but accurate statistics are not available, making the problem even more difficult to tackle.
Earlier this week Dr Ghebreyesus visited the Mycetoma Research Centre in Khartoum (Sudan), where he pledged to support initiatives that produce better diagnostics and medicines for this goal.
"This visit by the Director-General and other senior staff illustrates the current vision of WHO to promote health, keep the world safe and serve the vulnerable" said Professor Ahmed Hassan Fahal, Director of the MRC. "It not only boosts the morale of the staff but opens a new chapter of collaborative research and a thrust to find innovative treatment for this mostly forgotten disease."
Mycetoma, along with chromoblastomycosis and other deep mycoses, was added to the list of neglected tropical diseases by the WHO in 2017, which means that
The Mycetoma Research Centre is a major hub of mycetoma research and training and will be hosting the next International Conference on Mycetoma (Feb 2019), which will be preceded by a training workshop.