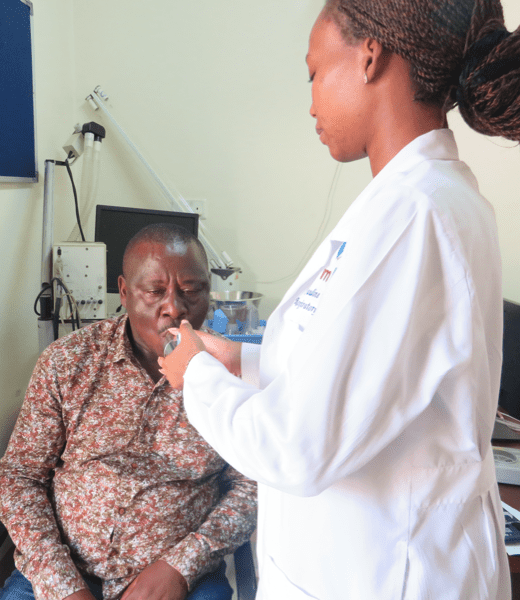 Today, the newly published survey of diagnostic capability in the Open Research journal of the European Respiratory Society found gaps in diagnostics for asthma, smoking-related lung disease, lung cancer, and fungal complications of these conditions.
Lung disease is common and is a rising cause of death in Africa.
While the provision of chest X-rays and lung CT scans are regular and available, bronchoscopy and spirometry were done in only 56% of 51 African countries surveyed. Laboratory support for fungal lung disease was much more limited:
In only 7 (14%) countries PCR for Pneumocystis pneumonia was done often or occasionally – a common complication of HIV and AIDS in adults and babies.
In 29 (59%) countries fungal culture is often or occasionally done – a key laboratory test for many fungal infections.
Some fungi are regarded as dangerous – in 12 (24%) countries at least one BSL-3 laboratory was available for fungal culture.
In 39 (78%) countries Aspergillus antibody was unavailable – a key diagnostic for the TB complication chronic pulmonary aspergillosis.
Dr Martha Mushi, lead author from Weill Bugando School of Medicine, CUHAS, Mwanza, Tanzania and GAFFI Country Ambassador stated:
Africa's capacity to diagnose lung fungal infection is still very low. This calls for the global attention in increasing awareness of fungal infection among clinicians and training of technical staff (radiology and clinical laboratory) on the WHO essential diagnostic tests, to attain the sustainable development goals."
Dr Sherif Zaki of Ain Shams University, Cairo, Egypt, GAFFI Country Ambassador, and lead author declared:
"Development of laboratory services for fungal infection is critically important to reducing deaths and major disability from chronic and allergic fungal disease. Our findings, all carefully checked and validated by each country, provide a pointer to some relatively simple but major steps forward in improving health on the continent of Africa."
The survey described was conducted in 2021-2022 by Global Action For Fungal Infections (GAFFI) in collaboration with the Africa Centres for Disease Control and Prevention (Africa CDC). The survey findings were presented at the 2nd Conference on Public Health in Africa in Kigali in December 2022.
The research paper includes co-authors from Benin, Burkino Faso, Cameroon, Cote d'Ivoire, Democratic Republic of Congo, Republic of Congo, The Gambia, Ghana, Mauritania, Nigeria, Sierra Leone, South Africa, Uganda and Zimbabwe.