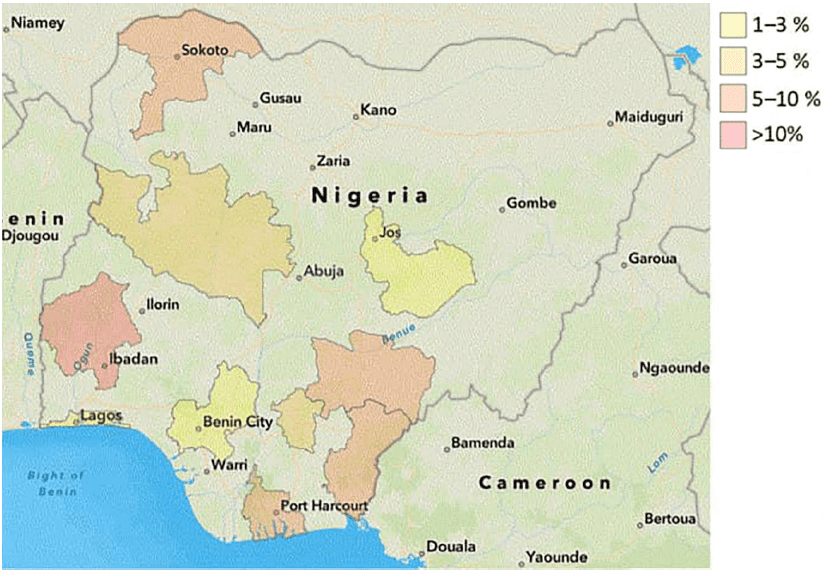 Histoplasmosis is easily mistaken for tuberculosis in patients with HIV infection, and both infections may occur together. In Nigeria, Rita Oladele and colleagues assessed the relative incidence of histoplasmosis and TB in people with HIV in 10 sites in 5 geopolitical zones. Urinary Histoplasma antigen (Immy) and Xpert MTB/RIF for M. tuberculosis DNA (Cepheid) in sputum were the primary diagnostic tools.
Overall, 76 of 988 patients (7.7%) were Histoplasma antigen positive, compared with 117 (11.8%) who had TB; 9 patients (11.7%) had both infections. Histoplasmosis was more common in the South West (12.9%) and 20% in Ibadan, whereas the lowest incidence was in Benin at 1.4%.
Nearly 50% of those with histoplasmosis had been hospitalised and at the time of testing, 30 or 303 (9.9%) were in the hospital, compared with 46 of 685 (6.7%) were outpatients. Nearly 2 two-thirds (65.8%) of histoplasmosis cases were ART experienced.
"This is not a survivable infection with specific antifungal therapy," said Rita O. Oladele, MD, PhD, a senior lecturer at the Lagos University Teaching Hospital, in Nigeria.
Histoplasmosis was more common than TB in those with the lowest CD4 counts of <50 cells/mm3 (11.6% vs 8.5%) and with counts of 100-200 cells/mm3 (5.5% vs 2.6%), and less common at CD4 counts of 50-100 cells/mm3 (5.9 vs 26.5%) or in those without a CD4 count and WHO clinical stage 3/4 disease.
Dr Oladele also commented that: "Nigeria, and many parts of Africa, need to ramp up testing for histoplasmosis in advanced HIV disease urgently. This unseen cause of death is a major contribution to 'tuberculosis' deaths in AIDS that are not TB at all."