Nearly 20,000 cases and patients with mycetoma are now described in the literature going back to 1876. In a new paper from Darcy Emery and David Denning, cases have been described for the first time from the United States, Venezuela, Italy, China and Australia, greatly extending the range of this chronic infection.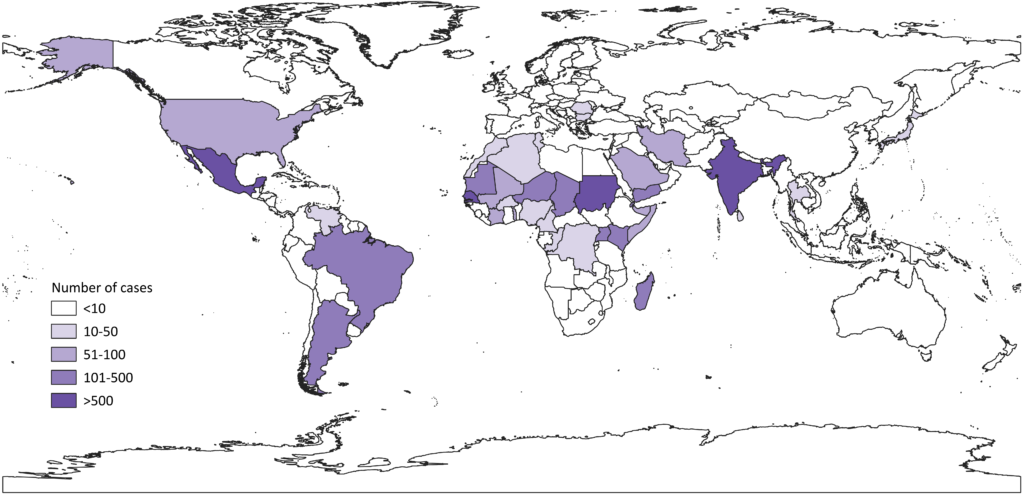 Overall, mycetoma has been described in 102 countries, with the largest number from Mexico, India and Sudan. The relative proportion of bacterial and fungal forms (actinomycetoma and eumycetoma) was also mapped for the first time.  In the Americas, bacterial forms dominate, whereas eumycetoma cases were more often reported from central African countries. For example, Chad reported 95% eumycetoma, Mauritania 83%, Mali 44%, but Niger only 26%.
Many cases are unreported in the literature as exemplified by 'missing countries', notably Angola, Botswana, Central African Republic, Mozambique and Zambia in Africa without a single reported case. In other parts of the world, no cases have been reported from Guyana, Ecuador, Nicaragua, Honduras, Syria, Iraq, Turkmenistan, Afghanistan, Nepal, Bangladesh and Myanmar, but would be expected.