The world's largest randomised study of HIV-positive adults with cryptococcal meningitis published in the New England Journal of Medicine has shown that a single high-dose infusion of liposomal amphotericin B (10mg/Kg) was non-inferior to one week of conventional amphotericin B, plus oral therapy with flucytosine and fluconazole for 2 weeks in both arms. Professor Joe Jarvis of the London School of Hygiene and Tropical Medicine and colleagues found that this short course approach was also associated with fewer adverse events.
This research was carried out in 844 HIV-positive patients across five countries in sub-Saharan Africa, where cryptococcal meningitis causes 15-20% of deaths.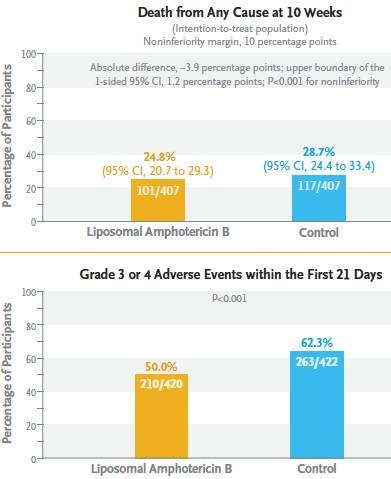 Traditional treatment using a one or two-week amphotericin B deoxycholate–based regimen is superior to fluconazole monotherapy, which has poor outcomes in these patients. But even one-week amphotericin B course increases anaemia, kidney impairment, and electrolyte abnormalities, even if liposomal amphotericin B is used.
This new approach recommends a single high-dose intravenous infusion of liposomal amphotericin
B (10mg/Kg), with oral flucytosine (100mg/Kg) and fluconazole (1200mg) given for 2 weeks. it was non-inferior to a one week course of deoxycholate amphotericin given at 1mg/Kg daily, also given with fluconazole and flucytosine.
The benefits of this new approach are shorter hospital stays, as only a single intravenous dose would need to be administered. This would make for a more cost-effective treatment.
The authors state: "The 10-week mortality of 24.8% observed in the liposomal amphotericin B group in our trial is among the lowest reported from a major cryptococcal meningitis trial in Africa, despite more than a quarter of participants presenting with very severe disease and abnormal baseline mental status. Our study results represent a notable improvement on the mortality rates of 40 to 45% reported in trials of 2-week amphotericin B deoxycholate–based regimens previously conducted in resource-limited settings."
Link to study paper